Yasawa Flyer Island Transfers: Your Gateway to Yasawa Island Adventures
Unlock the beauty and wonders of Fiji's Yasawa Islands with Yasawa Flyer Island Transfers. Our dedicated island transfer service is designed to make your journey to these islands a breeze. Whether you're planning a romantic escape, a family vacation, or an adventure with friends, Go Local Fiji is your trusted partner for seamless and unforgettable Yasawa Island transfers.
Why Choose Yasawa Flyer Island Transfers?
Hassle-Free Booking Option
Our seamless booking process and reliable island transfer service ensure your journey to the Yasawa Islands is as smooth as the gentle waves that surround them.
Explore the Yasawa Islands at Your Own Pace
With us, you have the freedom to craft your own island-hopping adventure. Discover dowdropping beaches, vibrant coral reefs, and cultural treasures on your schedule.
Expert Crew and Guides
Our experienced crew members and knowledgeable guides are dedicated to enhancing your Yasawa Island experience. From navigation to sharing local insights, they ensure your journey is unforgettable.
Eco-Friendly Commitment
Our eco-friendly practices minimize our impact on the environment, allowing these treasures to shine for generations.
Book Your Yasawa Island Transfers with Goi Local Fiji!
Your Yasawa Island adventure starts here. Whether you dream of lounging on pristine beaches, snorkeling in crystal-clear waters, or immersing yourself in the rich Fijian culture, Yasawa Flyer Island Transfers is your passport to paradise.
Book your Yasawa Island transfers today and embark on a journey that will leave you with cherished memories. Let Yasawa Flyer take you to the heart of Fiji's Yasawa Islands.
Yasawa Flyer Transfer Route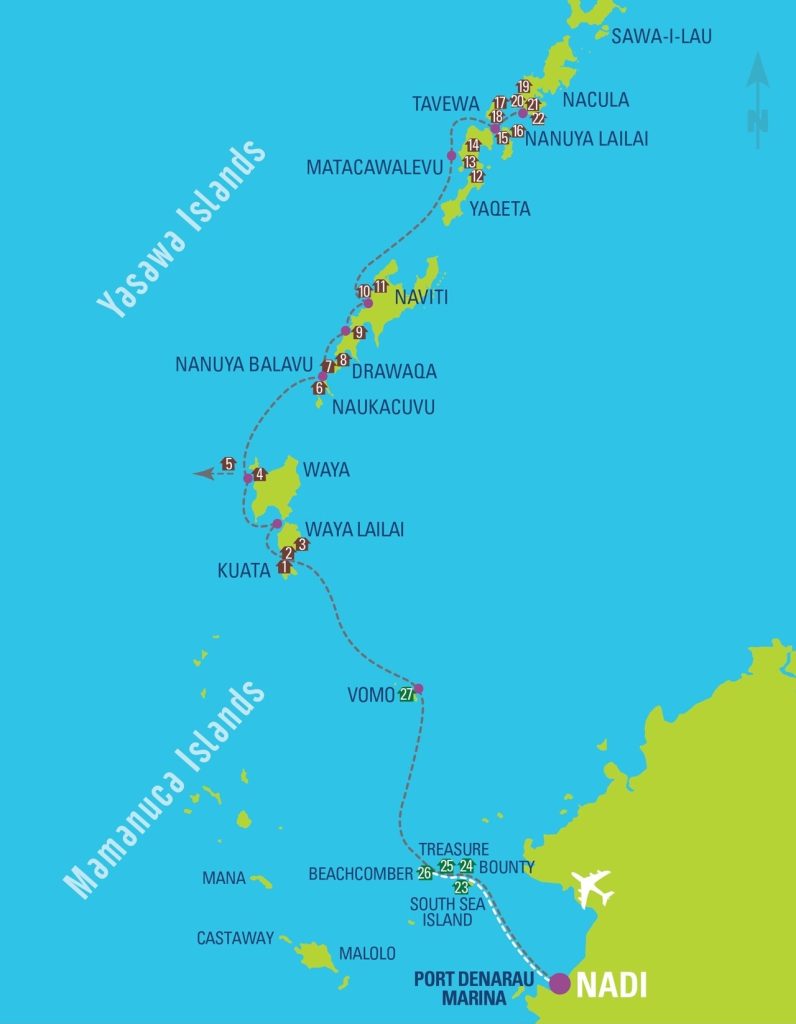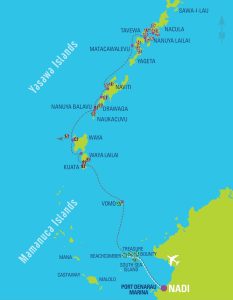 Yasawa Flyer Timetable
Note: these are approximate arrival and departure times. They may vary on the day according to sea conditions and loading. All passengers MUST confirm departure times at least 24 hours prior to departure.
NORTHBOUND
RESORTS
SOUTHBOUND
8:30am
Denarau Marina
5:45pm
9:00am
South Sea Island
5:15pm
9:05am
Bounty Island
5:10pm
9:15am
Beachcomber Island & Treasure Island
5:00pm
9:45am
Vomo Island Resort
4:30pm
10:30am
Barefoot Kuata Island, Wayalailai & Naqalia
3:45pm
11:00am
Octopus Resort/Viwa
3:15pm
11:30am
Barefoot Manta Island, Mantaray & Paradise Cove
2:45pm
11:45am
Botaira Island Resort
2:30pm
11:55am
Korovou &
White Sandy Beach
2:20pm
12:30pm
Bay of Plenty, Navutu Stars & Long Beach
1:45pm
1:00pm
Oarsmans, Blue Lagoon, Nabua & Safe Landing
1:00pm
1:30pm
Nanuya Island, Gold Coast, Sunrise, Coralview & Coconut Beach Resort
1:30pm
Bus Coach Transfer Timetable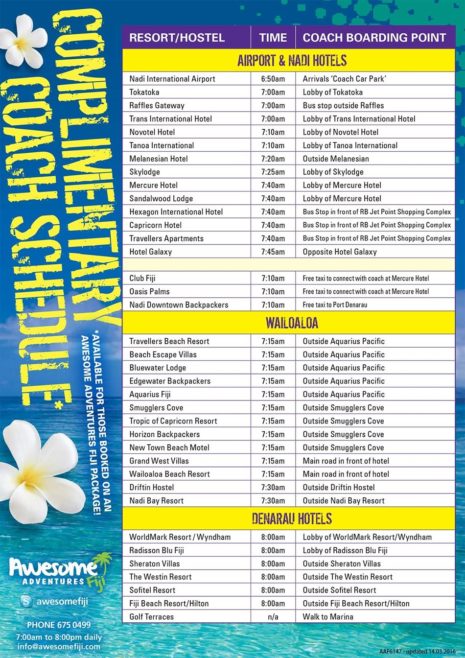 Booking your Yasawa Island transfers with Yasawa Flyer is simple and convenient. Visit our website, select your desired travel dates, choose your preferred Yasawa Islands destinations, and follow the easy booking instructions. If you have any questions or need assistance, our customer support team is available to assist you.
The Yasawa Islands in Fiji are a tropical paradise known for its beaches, vibrant coral reefs, and Fijian culture. During your visit, you can explore secluded beaches, enjoy water activities like diving, visit local villages, and immerse yourself in the island atmosphere.
Absolutely! Go Local Fiji Transfers offers both private charters and group transfers to accommodate your specific needs. Whether you're planning a getaway, a family vacation, or a group adventure, we can make your Yasawa Island experience extraordinary. Simply contact our team for personalized booking options.
Our Blog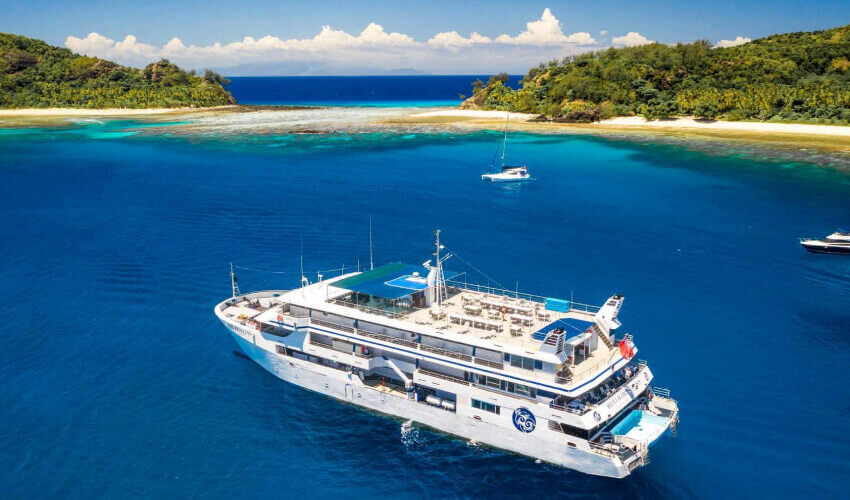 Which is the best Cruise Ship Excursions in Fiji?
14 Oct 2023 By golocalfiji Share Cruise Ship Excursions in Fiji: Making the Most of Your Stopover Many tourists visit Fiji on cruise ships, and while the allure of this South Pacific paradise is undeniable, it can be challenging to make the most of a short stopover. That's where Go Local Fiji, a reputable tour …
Which is the best Cruise Ship Excursions in Fiji? Read More »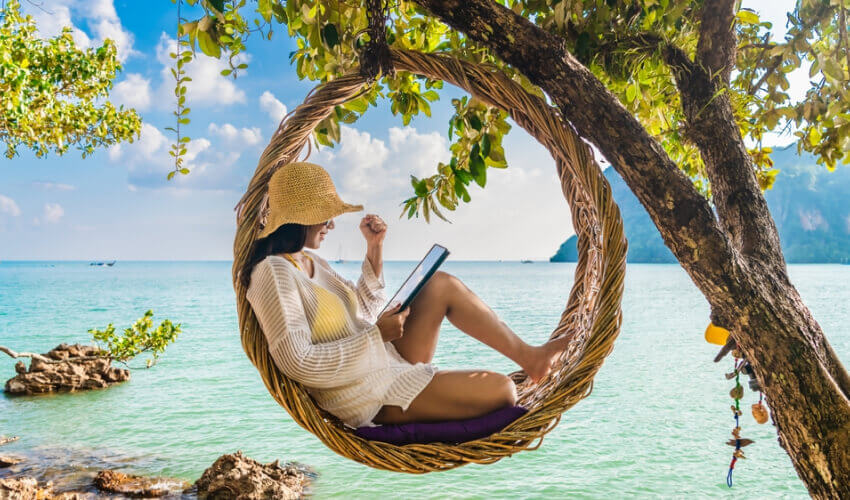 How travel budget friendly in Fiji?
13 Oct 2023 By golocalfiji Share Travelling on a Budget? How to Save Money with Go Local Fiji Dreaming of a Fijian vacation without breaking the bank? It's possible with Go Local Fiji! With its lush landscapes, crystal-clear waters, and vibrant culture, Fiji is a dream come true for many travellers. But the idea of …