Get Anything on Rent Within Couple of Hours
Need a Ride?
No Hidden Charges. Go Local Fiji Trusted by 1000+ Customers Around the World!
We Have Some Of The Best Tours In Fiji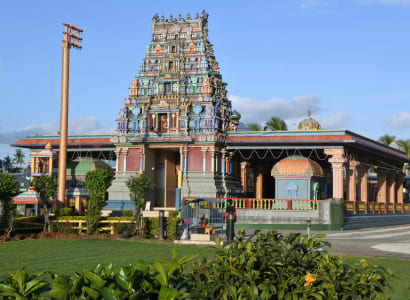 Nadi Sightseeing
Discover the mesmerizing beauty of Nadi with our Sightseeing package. Immerse yourself in stunning landscapes, rich culture, and unforgettable experiences. Get the best offers!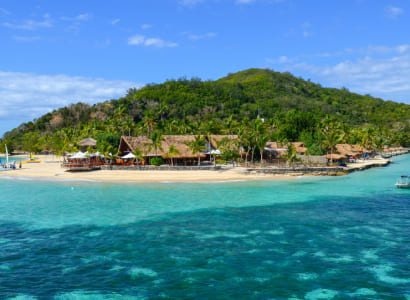 Discover Coral Coast
Embark on an unforgettable journey to discover the breathtaking wonders of the Coral Coast. Experience pristine beaches, vibrant marine life, and captivating natural beauty.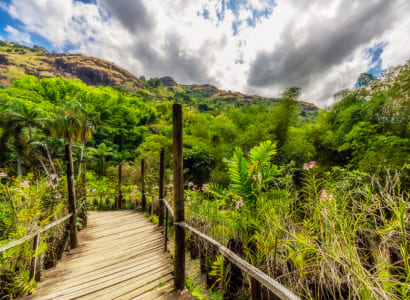 Lautoka City Sightseeing
Experience the vibrant charm of Lautoka City with our Sightseeing Packages. Immerse yourself in the rich culture, explore iconic landmarks, and indulge in the local flavors.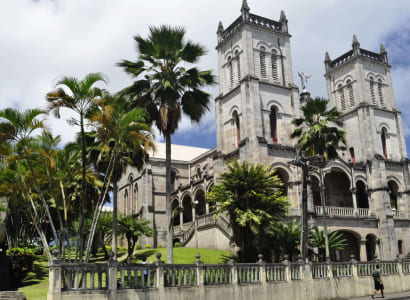 Discover Suva City
Unveil the beauty and vibrancy of Suva City with our Sightseeing Packages. Get the best experience, explore cultural landmarks, and soak in the energetic atmosphere.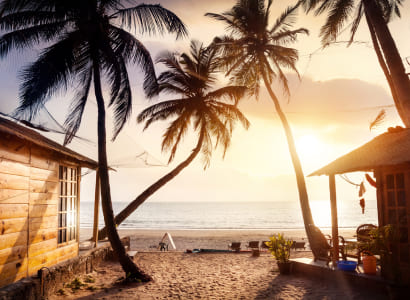 Coral Coast Sightseeing
Uncover the wonders of Coral Coast with our Sightseeing Package. Bask in pristine beaches, explore vibrant marine life, and indulge in captivating natural beauty. Book Now!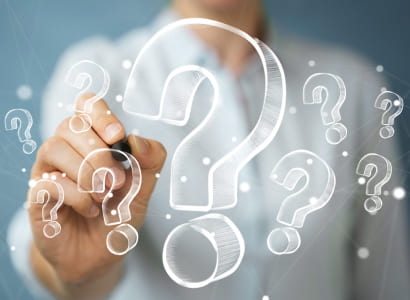 Any Questions?
Go Local Fiji is a 100% Fijian owned and operated company. The company also has a team of experienced and knowledgeable staff who can help you plan your perfect trip.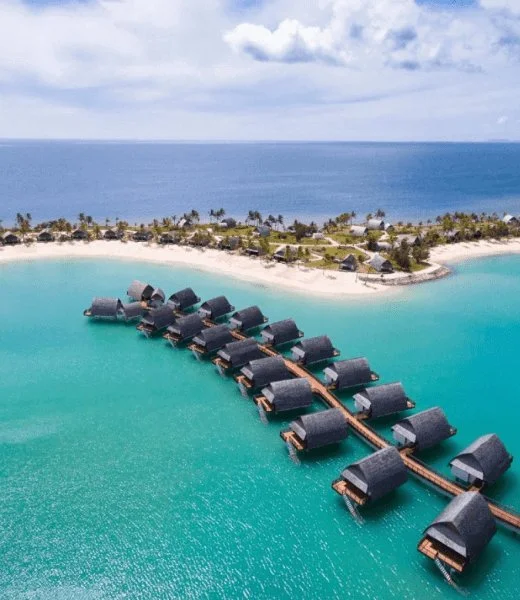 Welcome, FIJI
Fiji is an archipelago of 333 islands located in the South Pacific Ocean. It is known for its stunning beaches, crystal clear waters, and lush tropical forests, making it a popular tourist destination. Fiji is also known for its rich cultural heritage, with a blend of indigenous Fijian, Indian, European, and Chinese influences.
The country's capital, Suva, is home to a mix of modern skyscrapers and colonial architecture. At the same time, the islands' interior offers breathtaking landscapes and a chance to experience the traditional way of life in rural villages.
Want to explore FIJI? Book your first ride…
+679 891 9111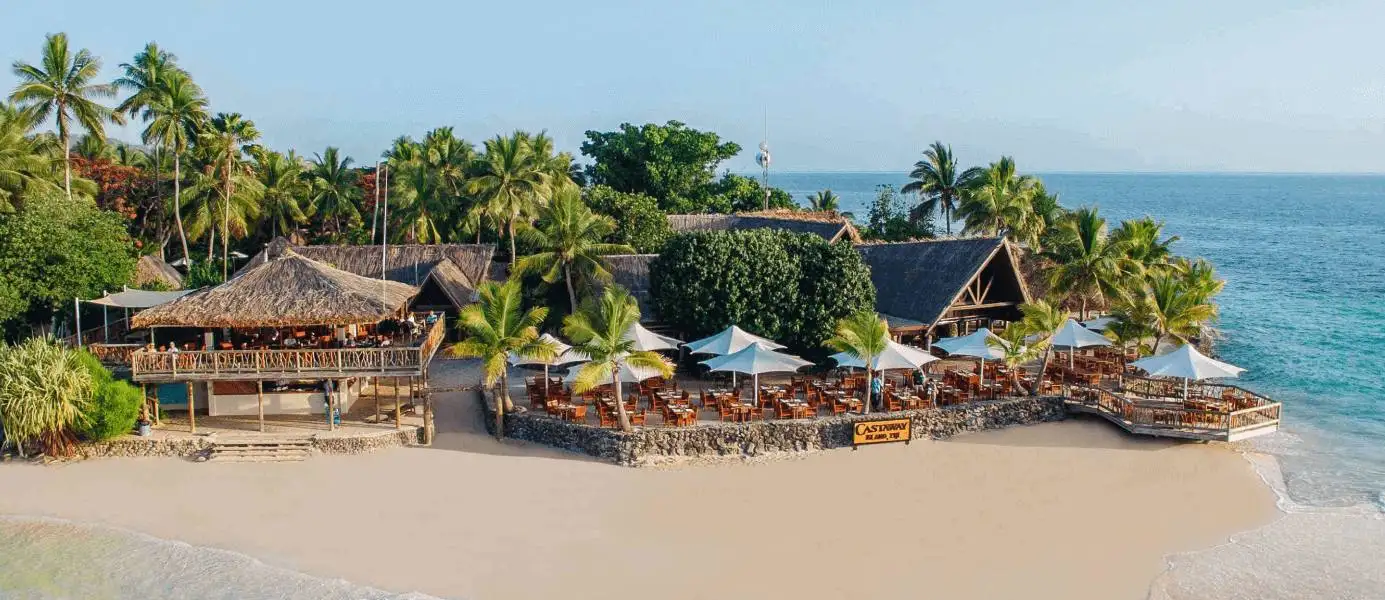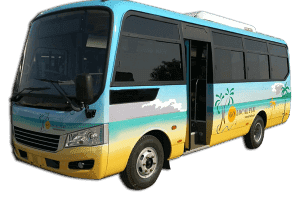 We are your one stop shop solution for your all tours and transfer needs. Providing 24-hours transportation service Nadi, Coral Coast, Suva and Rakiraki area.
Emily Simmons
Go Local Fiji's airport pickup service was an absolute delight. As soon as I landed, I was warmly welcomed by their driver, Kavita, who not only got me to my accommodation seamlessly but also provided valuable insights into local life. Kavita's friendly demeanor made me feel like an old friend, setting the tone for an incredible Fijian experience.
David Martinez
It's hard to put into words how much Go Local Fiji's tours and transfer services enhanced my trip. John, our guide, took us on an unforgettable journey through Fiji's pristine landscapes. His knowledge of the area, coupled with his genuine enthusiasm, turned every activity into a thrilling adventure. I'm grateful for the memories made!
Rachel Thompson
"Fiji's best Airport Transfers". Don't look any further. This is the transfer company for you! After experiencing Go Local Fiji's reliable airport drop-off and pickup services, I can confidently say they're my go-to choice for travel in Fiji. Sarah, the driver, was punctual and accommodating, making my journey stress-free and enjoyable. I can't thank Go Local Fiji enough for being my travel partner.
Jennifer Lewis
With Go Local Fiji, touring Fiji felt like exploring alongside a local friend. Our guide, Taniela, shared stories about the island's history, customs, and hidden gems, enriching every moment. Their transfer services were equally impressive, ensuring a seamless transition between destinations.
Michael Johnson
I relied on Go Local Fiji for both airport pickup and drop-off services, and they exceeded my expectations each time. From the moment I landed, Tom, my driver, ensured I felt welcomed and comfortable. His attentiveness and friendly nature turned a simple ride into a delightful experience.
Sarah Miller
Go Local Fiji transformed my vacation into a journey of a lifetime. With their carefully curated tours, I got to explore the heart of Fiji's beauty. From sunrise hikes to pristine waterfalls, Lisa, our guide, made sure we experienced the essence of Fiji while catering to our interests.
Mark Anderson
I'm blown away by Go Local Fiji's commitment to excellence. Their airport pickup service, guided by Sam, was impeccable. Not only did he ensure a smooth transfer to my resort, but he also shared local recommendations that made my stay unforgettable. Go Local Fiji truly raises the bar for travel services.
Jessica Turner
Go Local Fiji personalized my vacation from the get-go. Anna, my tour guide, was a wealth of knowledge about Fiji's culture and traditions. Her passion for sharing the island's beauty and history was evident in every detail of our tour. I can't imagine experiencing Fiji any other way.
Benjamin White
From booking to drop-off, Go Local Fiji exudes elegance in every aspect of its service. Ryan, our driver, was not only prompt but also friendly and accommodating. His insights into Fiji's local life added depth to our journey. Go Local Fiji sets a new standard for travel.
Olivia Taylor
Choosing Go Local Fiji for my Fiji adventure was the best decision I made. Emma, my guide, made every moment special with her engaging storytelling and infectious enthusiasm. Whether it was exploring the markets or relaxing on the beach, Go Local Fiji's transfers and tours made my journey unforgettable.
Over 5 million customers travelled so far
Highly recommended by our customers
Over 20+ highly skilled local team for guide
Cancel reservation free of charge before 24 hours
Book Us, Have fun!
Fiji has a well-developed transportation system, with a range of options for getting around the islands. Visitors can choose from public buses, taxis, and private car rentals. The main international airport, Nadi International Airport, is located on the main island of Viti Levu and is well connected to major cities around the world.
Go Fiji Local provides 24*7 transportation services across the whole FIJI island whether you are a tourist or a local person. Our modern vehicles like mini bus, care with driver are well equipped and drivers are qualified, honest and reliable to transport you safely to your destination without any hassle.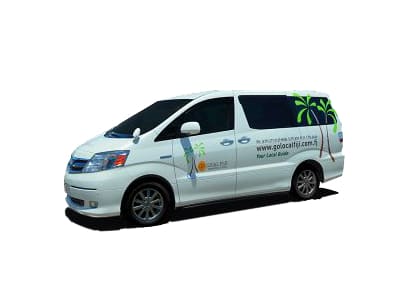 Luxury Toyota Alphard
1 – 7 seater
Maximum 4 suitcases
Maximum 7 pax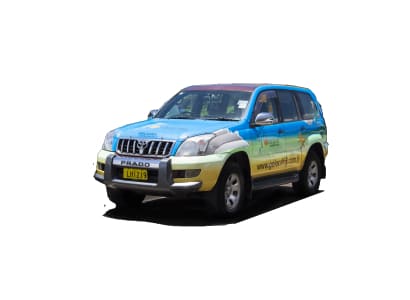 Luxury Toyota Prado
1 – 4 seater
Maximum 4 suitcases
Maximum 4 pax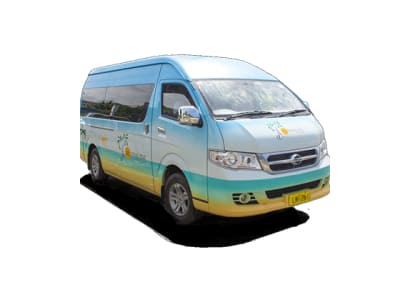 Luxury Higer Vans
5 – 8 seater
Maximum 6 large suitcases
Maximum 8 pax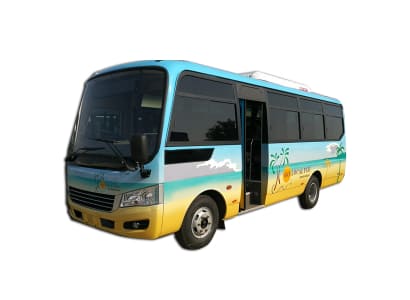 22 seater coaster bus
9 – 22 seater
Maximum 15 large suitcases
Maximum 22 pax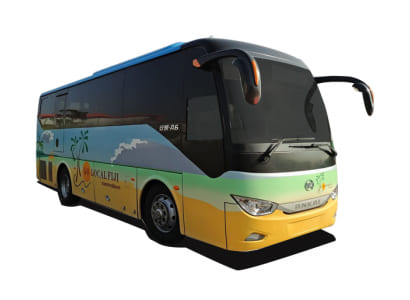 35 seater big bus
15 – 35 seater
Maximum 35 large suitcases
Maximum 35 pax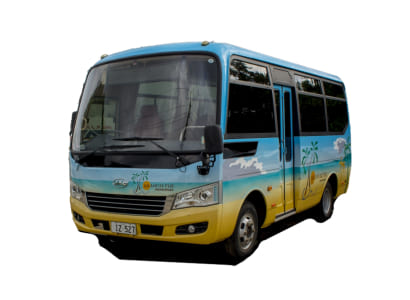 15 seater bus
1 – 15 Seater Bus + Trailer
Maximum 15 large suitcase
Maximum 15 pax
Why Choose Us?
We are a 100% Fijian owned company and specialise in a wide range of tour and transfer services. We provide 24-hour transfer service from Nadi Airport to hotels along Nadi, Coral Coast, Suva and Rakiraki area. Our team combines world-class service with local knowledge to give you an authentic Fiji Experience. Our modern vehicles are well equipped and drivers are qualified, honest and reliable to transport you safely to your destination without any hassle.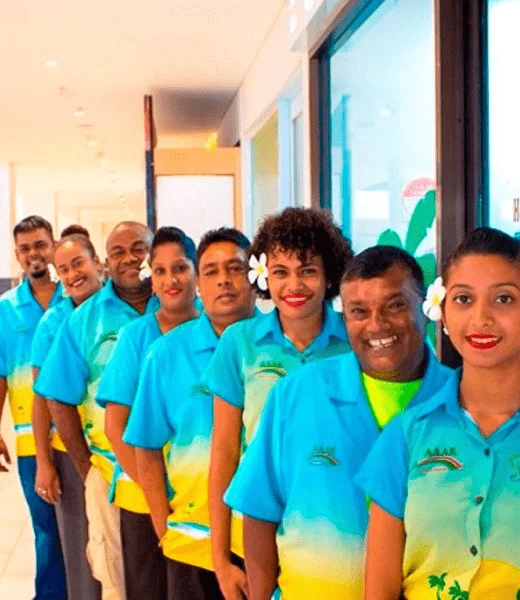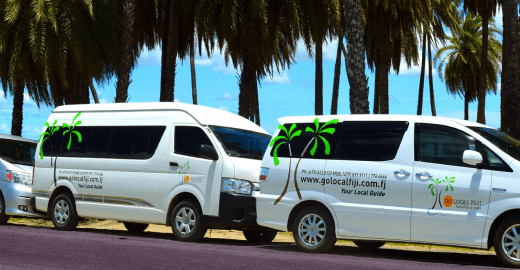 We Are: A Premium Tourist Transportation / Tour Operator / Ground.
We Constantly: Meet Our Customer's Expectation.
All Our Staff: Change The Icons in The Settings.
We Have High Standards: To Meet Our Commitment To Providing Quality Service.
We Are a Specialist: When it Comes to Ground Handling and Visitor Transportation While in Fiji.
Go Local Fiji Transfers & Tours offer efficient and affordable Private Airport Transfers, Private-Guided Tours, Shuttle Services and Customized packages for international visitors to Fiji.
Frequently Asked Question
Our Blog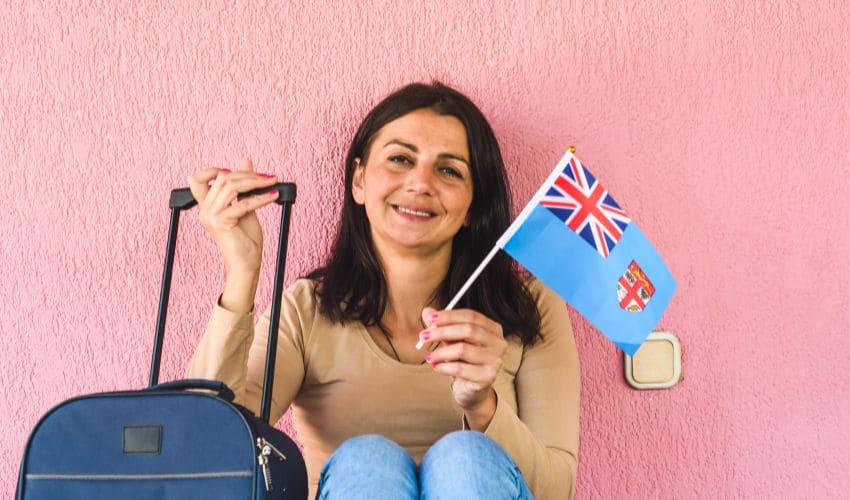 Sustainable travel in Fiji: Eco-friendly experiences and conservation efforts
29 Jul 2023 By golocalfiji Share Sustainable travel in Fiji: Eco-friendly experiences and conservation efforts Fiji is a South Pacific group of over 300 islands. It is known for its lovely beaches, swinging palm trees, volcanic terrain, and crystal-clear ponds. Its sun-kissed islands attract you to spend relaxed days on the beach, and below the … Read more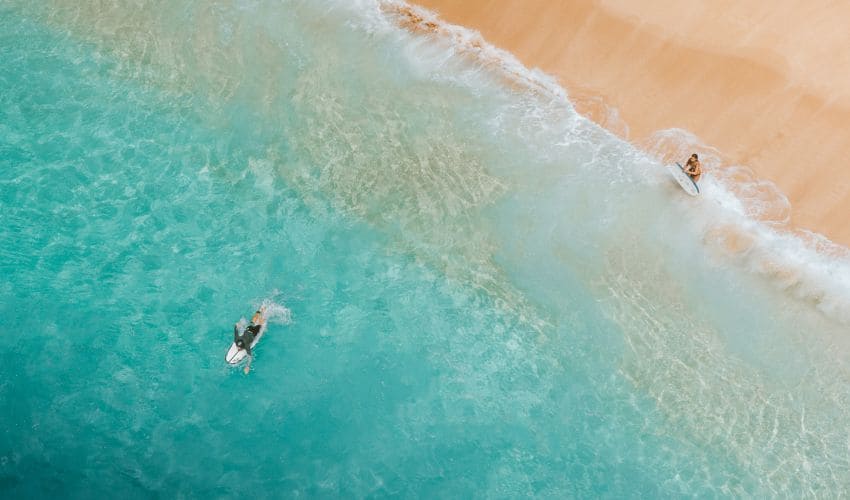 Water Sports to do in Fiji
27 Jul 2023 By golocalfiji Share Fiji's Water Sports Paradise: Surfing, Kayaking, and Jet Skiing The stunning coastline and clear oceans that surround Fiji are attractions in and of themselves. It's no surprise that water enthusiasts swarm to Fiji to partake in the wealth of water activities offered by the island nation's golden sand beaches, … Read more