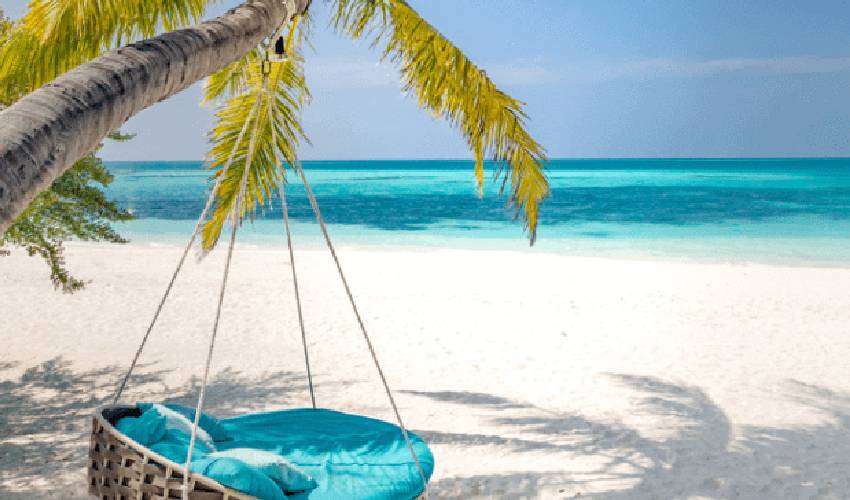 Top things to do in Nadi, Fiji [2023 Special]
The World holds gorgeous not-so-little gems to fill our hearts with wonder and gratitude. Fiji is one of those magical places that leave an everlasting mark on your soul. It's truly heaven and people who have been there couldn't agree more. If you have been someone planning a trip to Nadi in Fiji, this guide would be a perfect help in planning a trip. 
Nadi is one of the largest cities on the main island of Viti Levu. Boasting stunning architecture and natural wonders, this city attracts millions of visitors every year. This beautifully developed city is well-connected and holds a place for travelers coming from different aspects of life. Be it luxury relaxation, adventure, or a trip filled with unique experiences- Nadi will quench your thirst for a memorable vacation right from the moment you land. 
1. Enchant Yourself In The Garden Of The Sleeping Giant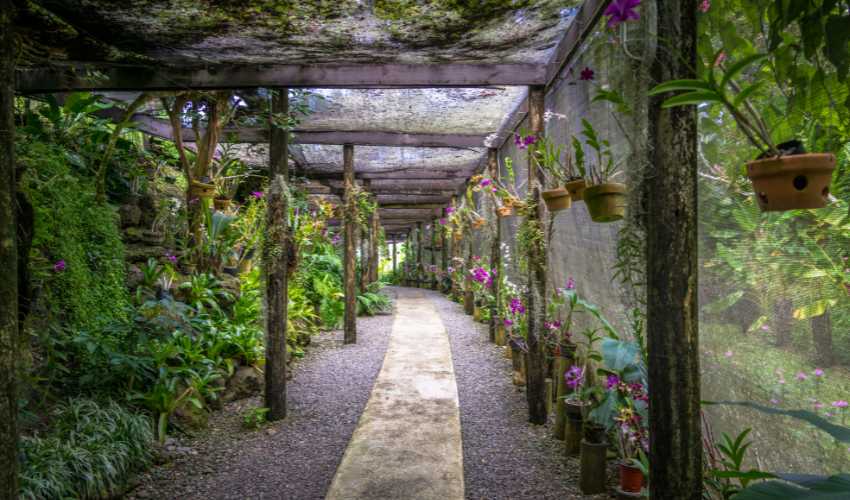 A walk amidst nature in the gardens of sleeping giants is nonetheless less than a therapeutic experience. Wander and find yourself lost admiring the varied orchid plantations. The refreshing trail will give your soul much-needed time amidst luscious greens. It's a perfect place to spend your sunny afternoons at. However, the trail gets quite challenging during monsoons. Besides, there is a higher chance that the gardens remain closed altogether. Plan your itinerary accordingly. 
P.s. Did you know that the Garden of the Sleeping Giant boasts a display of more than 2000 varieties of orchids? It surely is an experience you shouldn't miss. 
2. Tropical Getaways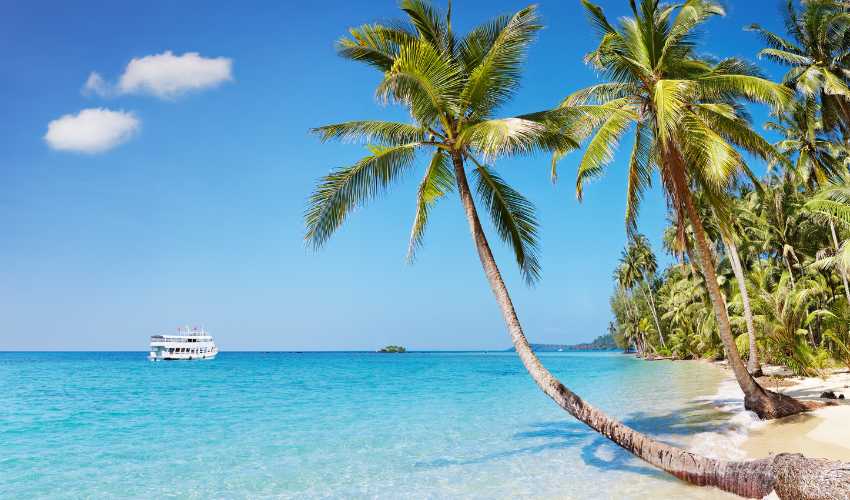 The relaxing Mamanuca island
Mamanuca is a group of 20 tropical islands located just a short boat ride from Nadi. Head over to Mamanuca and spend your day indulging in different cultural and adventurous activities. Dive into the blue seas and swim your heart out. Relax by the beach and sip in your pina-coladas witnessing the sea of blue stretching endlessly in front of you. 
Want to give a luxury makeover to your tropical visit? Book a luxury cruise and mark a day well-spent in your Fijian diaries. 
The adventurous Tivua islands
The picturesque island of Tivua will introduce you to pristine clean water, exquisite corals, and a ring of white sandy beaches. Take a tall cruise ship to reach Tivua and take in the breathtaking views on your way. Indulge in a delectable buffet while watching the dolphins playing a show for you in their natural environment. 
Tivua is the best place to try your hands at snorkeling or scuba. The underwater world is nothing less than a paradise, especially when surrounded by enriching coral reefs. 
P.S. Tivua is surrounded by 500 acres of gorgeous coral reefs. It is also a sanctuary for turtles during nesting season. 
The luxurious Malamala Islands
Malamala is your luxury paradise on a tropical island. The white sand beaches of Malamala stretch to the horizon and leaves you with endless options to spend a day as you wish. Fill your appetite by sipping in all the cocktails and hogging on all the scrumptious meals. Swim in the ocean or an infinity pool with a magical mighty sea in the background. 
Rest, relax and rejuvenate your soul with full-day excursions happening at Malamala. 
The islands in Fiji are simply out of the world. Whatever you choose, there are different transport modes and budget tours to suit your needs. 
Don't miss a chance to take a scenic flight over the islands. It's easy to book seaplane and helicopter rides to your islands if you are willing to splurge a little. The bird-eye-view of landscapes and pristine water is simply mesmerizing.
3. The Sabeto Mud Pool And Hot Springs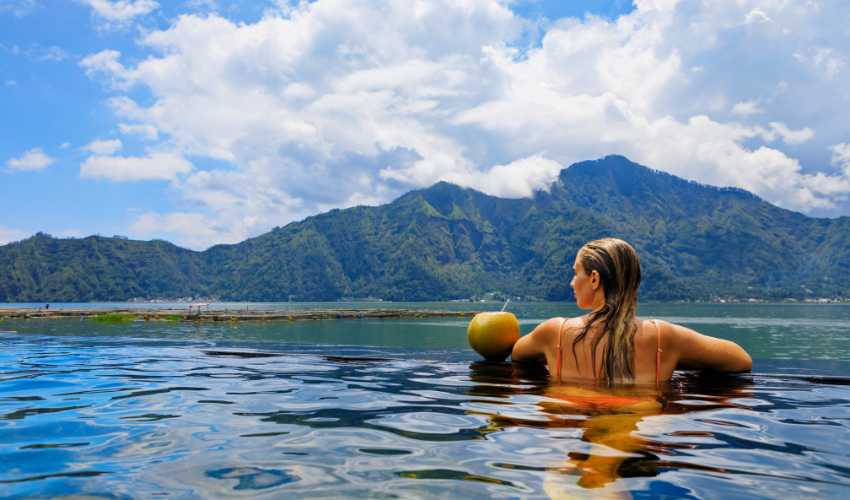 This is quite near to a sleeping giant and can be covered on the same day. Plan your late afternoons and evenings for this relaxing therapeutic activity. Immerse yourself in the mud pool at Sabeto. It has a mineral-rich composition that will leave you with a relaxed and rejuvenated experience. 
Rinse off the mud in the crystal-clean hot springs. This thermal spring will relax your body and sore muscles and get you refreshed for upcoming adventures. Spend as much time as you need soaking in all the calmness and soothing energy. Before you know it, you will doze off on the ride back.  
4. Sri Siva Subramaniya temple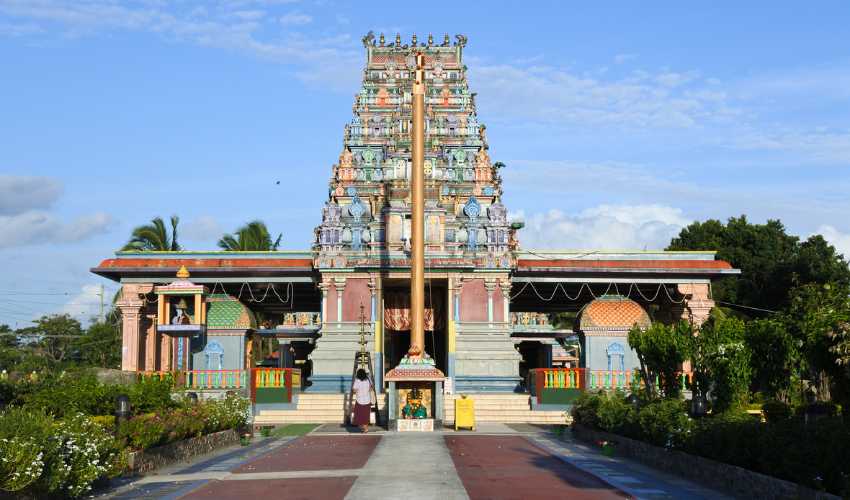 Did you know that Nadi is the center of Hinduism and Islam in Fiji? The architecture and religious centers in Nadi speak of its Hindu concentration. 
Sri Siva Subramaniya is the largest temple in the Southern Hemisphere. It's a reflection of brilliant Dravidian architecture and impressive wooden carvings. Artists from India traveled all the way to create awe-inspiring carvings of deities that now reside in the temple. 
Walk through the temple and marvel at the giant statue of Lord Murugan. Take in the beauty of colorful murals and fill your soul with the positive vibrations of this place. 
P.S. Start your day with a visit to a temple followed by a visit to the Garden of sleeping giants and end it with the thermal hot springs of Sabeto.
5. Take a Cultural Tour in Fiji Village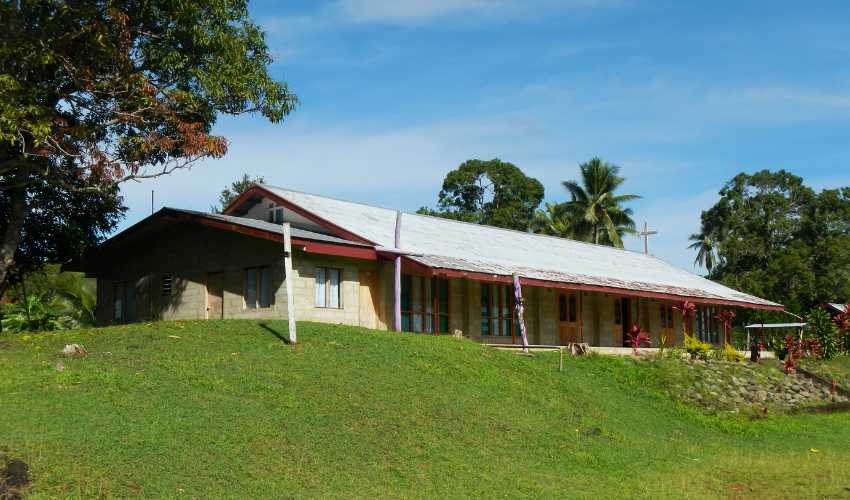 If you are looking for a traditional authentic cultural feel in Fiji, you need to mark this on your planning list. Experience the authentic and lively Fijian culture in this small little village. Get a heartwarming welcome from the locals and learn everything about Fiji culture closely. Refresh your mood with exquisite local cuisines and drinks while enjoying the show. A cultural tour will take you one step closer to being a traveler. 
6. A Visit to Navala village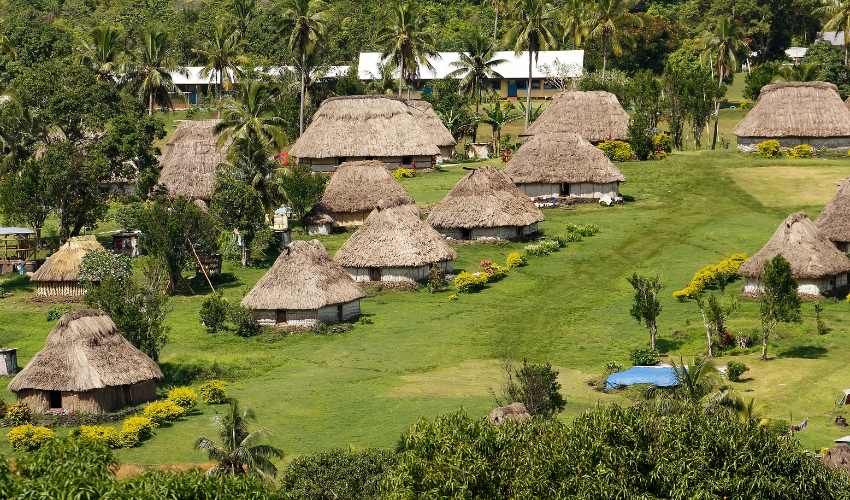 The quaint and untouched Navala village has panoramic picturesque views. It still retains the old traditional bures where the thatched huts are supported by center poles. It's the only place in Fiji where you would find this housing pattern still intact. Get away from the mass and spend a peaceful night at the Navala. 
7. Nausori Highlands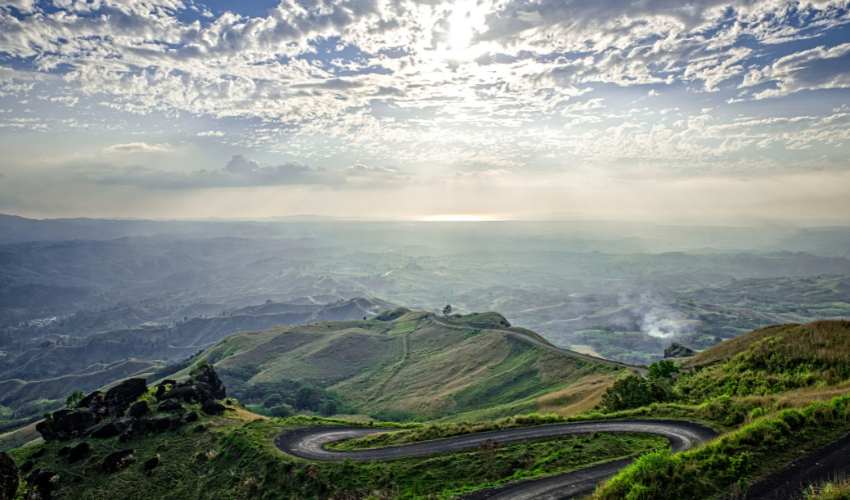 For travelers who don't waver to take the road less traveled, Nausori will be an ultimate pick. It's quiet and a whole different world in Fiji itself. The road leading to Nausori can be difficult to find with no signs or boards on the way. Plan well and be ready for the adventure the visit to this natural wonder will bring.
The journey is as beautiful as the destination and you surely will love this offbeat pick. 
8. The sunset cruise, dinner, and a show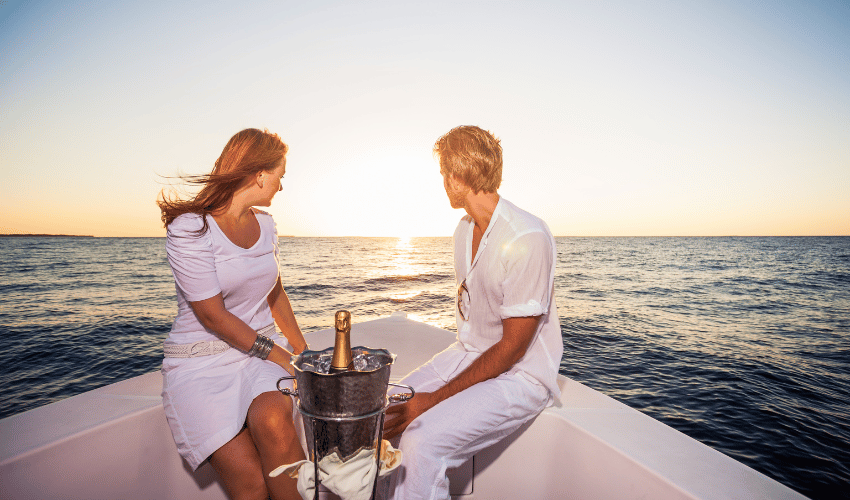 The sunset cruise begins in the calm waters of the Tuva river. It takes you to an island to enjoy a mesmerizing sunset followed by dinner and worth experiencing dance and cultural shows. Learn about the cultural traditions of Pacific islands and a beautiful method of Lovo that unearths the earth oven. It's a cultural experience you need to add to your Fijian vacation.
9. Visit the Wailoaloa Beach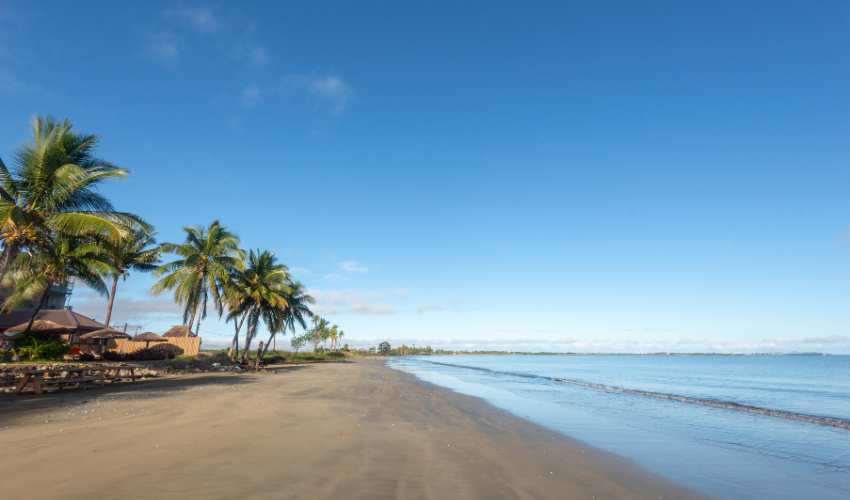 Wailoaloa Beach is one of the most popular beaches in Nadi. It is a long stretch of white sand and crystal clear water, perfect for swimming, sunbathing, and it's best place to do water sports in Fiji. Visitors can also relax at one of the beachside restaurants and enjoy a cold drink while taking in the beautiful view.
10. Nadi produce markets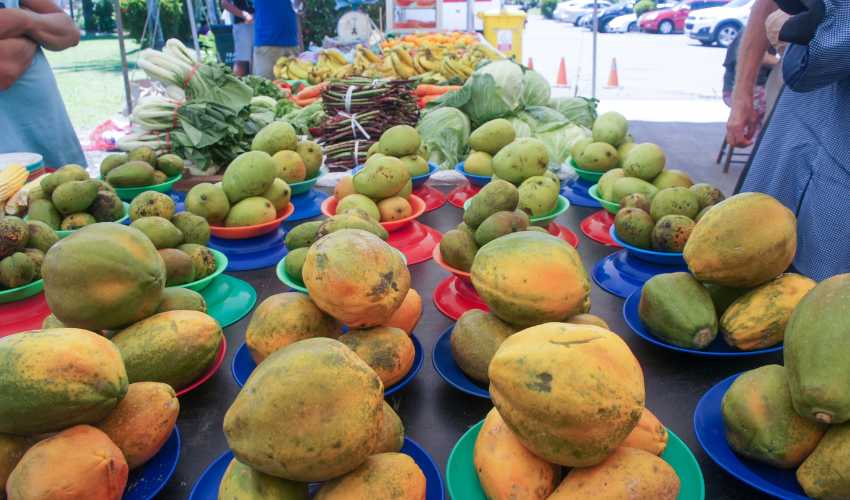 Live a Fijian life while in Fiji. The produce market of Nadi offers close insight into the local produce of Fiji. Explore the market and trust us there won't be any nagging salesperson eating your head off. Get your hands on fresh and supple produce right from the source. 
From conventional to offbeat, Nadi is a place of wonder for travelers across the world. Choose your adventure and plan your vacation in this welcoming place. Book your Fijian vacation now and make a worthy addition of experience to your 2023.
Nadi has far more places to soothe the tourist soul than Nadi. From stunning white sand beaches to exotic cruises and adventures and natural wonders and temples; Nadi will fill your appetite for a worthy vacation.
Nadi is well-connected and has a fully developed transport system. The transports in Nadi are majorly managed by locals and it is easy to book transport vehicles of your choice. Go Local Fiji is a perfect solution for your travel concerns in Fiji. Check us out now.
No, Uber is not operational in Nadi Fiji.
The fastest way to get from Nadi Airport to Denarau Island is through a taxi. It costs around 9-12$.