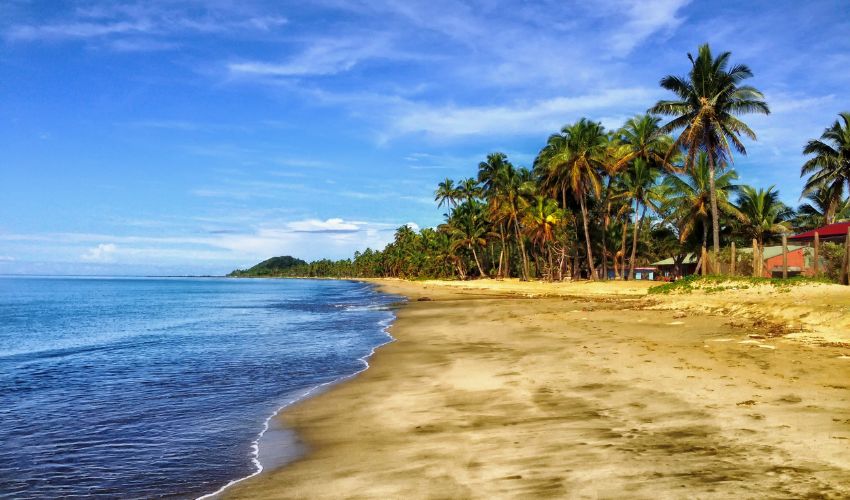 Top 5 Best Beaches in Fiji
Fiji, located on the South Pacific Ocean, is an island surrounded by crystal-clear water and has breathtaking beauty, which attracts visitors and tourists from around the world. It has azure water, picturesque landscapes, and sandy beaches, which is the best combination to say that Fiji is a tropical paradise.
Fiji has white powdery sand beaches, in which you cannot resist but sink your toes in, which feels so soft, and bask in the warm sun. Fiji beaches are perfect for swimming, diving, and snorkelling, as they have crystal-clear waters surrounding them. Divers can explore marine life like reef sharks and manta rays.
When you want adventure and relaxation at the same time, Fiji's beach beauty will meet your expectations. So what are you waiting for? Pack your sunscreen already and have a total blast on the Fiji beaches!
Here are the 5 best Fiji Beach recommendations for you–where you must go!
1. Natadola Beach: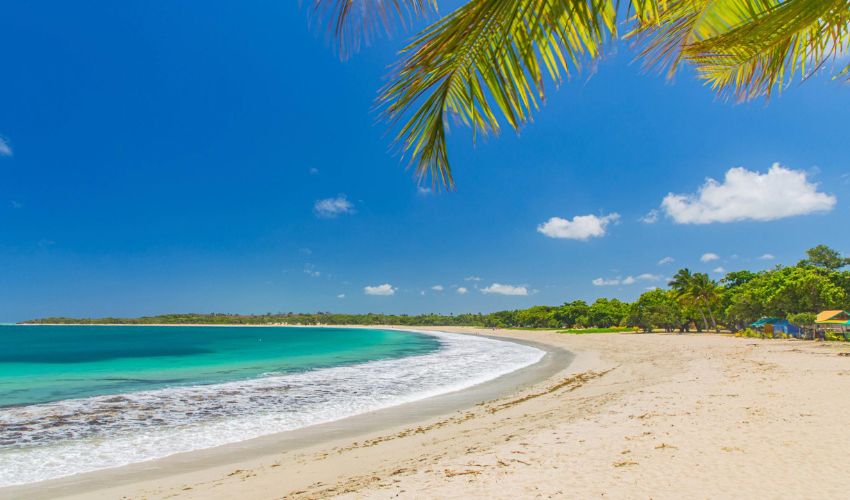 Natadola Beach is on the main island of Viti Levu. It is mostly 50 minutes away from the Nadi airport. It has clear turquoise water and white sand beauty, which is so unparalleled in nature that it attracts visitors from all around the world. You can enjoy the water, surf, or sunbathe. The Natadola Beach offers an escape from your daily mandatory routine. The atmosphere here is tranquil, you can feel relaxed by watching swaying palm trees and lush greenery for hours.
Natadola Beach offers a variety of adventurous activities for adventure enthusiasts. You can swim or explore marine life by snorkelling. You can add a bit of excitement to your vacation with activities like jet skiing, kayaking, or paddleboarding. The sunsets on Natadola Beach are stunningly spectacular. The local Fijians living there are very friendly. And the water on this beach is one of the best you will experience in the South Pacific. It also provides massages, horseback riding, and fresh coconut water.
So just bring your food and beverages, and yeah, don't forget your snorkelling gear!
2. Yasawa Island Beach: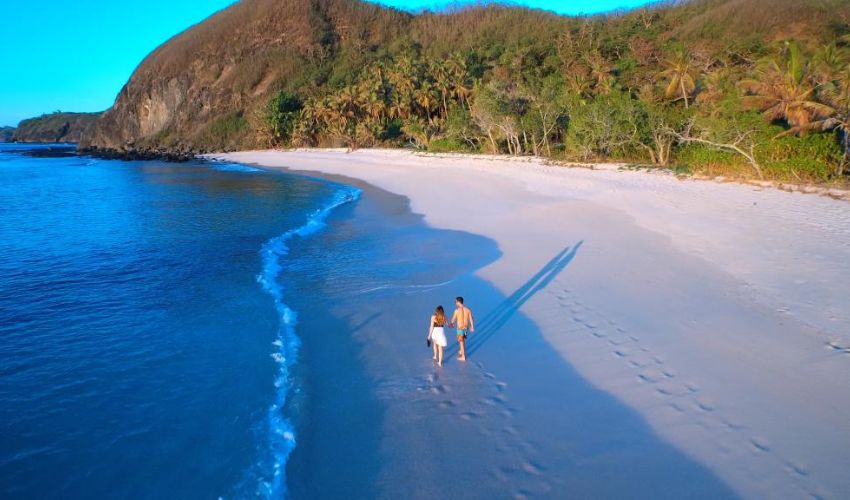 Yasawa Island has a group of volcanic islands in it. It offers untouched natural beauty that feels like paradise, with mesmerising water and pristine beaches—a true escape from your hustle and bustle life. Yasawa Island is 80 kilometres from the northwest part of Viti Levu. All 20 volcanic islands on Yasawa Island have their own unique attraction and charm. You can go swimming, diving, or snorkelling on these white sandy beaches.
Champagne Beach is one of the most popular beaches on Yasawa Island. As it contains volcanic islands and has volcanic activities happening beneath the surface, the water here is bubbly and has an effervescent quality. Champagne Beach has the beauty of colourful corals and tropical fish, which you can experience by snorkelling.
Another beach named Sunset Beach is also a must-visit beach, as you can experience fascinating sunsets here with orange, purple, and pink shades painted on the sky. When the day comes to an end, the beach forms a perfect romantic stroll with marvelling beauty around you.
Yasawa Island also provides adventurous experiences like island hopping. You can explore different islands by boat, or if you want, you can take a cruise too. Yasawa Island has traditional villages and lush jungles; you can stay in "bures" on the beach, wake up to the sounds of waves, and enjoy seafood.
3. Mamanuca Islands Beach: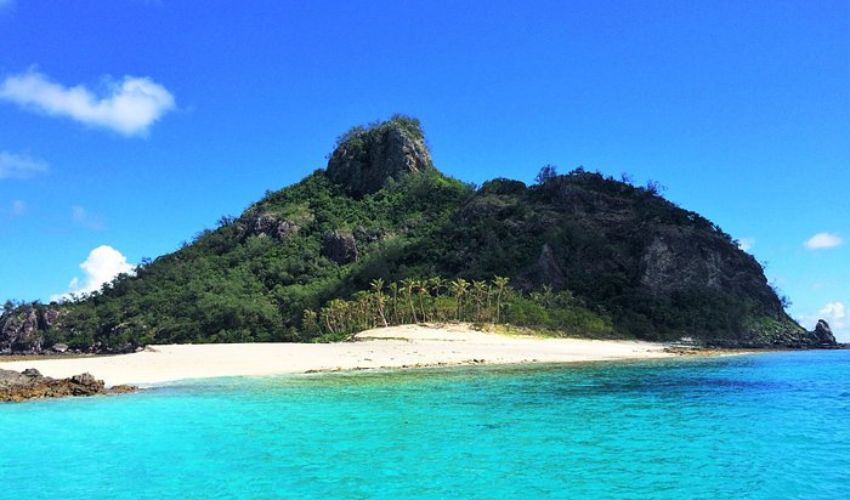 The Mamanuca Islands also serve as a tropical paradise for travellers. It would mesmerise your eyes to watch turquoise water, colourful coral reefs, and powdery, soft beaches. These beaches are easily accessible from the mainland. It also contains 20 islands, which are perfect settings for adventure and relaxation with unique characters and attractions.
Castaway Island is popular for the tropical and beautiful beaches that it contains. It offers plenty of water activities like kayaking, diving, and snorkelling. You can also take a boat ride to surrounding islands, such as Modriki Island. You might have seen Modriki Island in a movie named "Cast Away.".
Malolo Island is also a destination to visit in the Mamanucas. It has various resorts and beach-facing accommodations. Tourists and visitors can try local cuisine, get spa treatments, and enjoy plenty of water activities.
Monuriki Island in the Mamanucas is a hidden gem for its tranquil environment and unparalleled beautiful beach. You will have a different and off-beat experience here. It also provides sailing and hopping activities.
The beaches have ferries, speedboats, and seaplanes for easy transportation. Mamanucas Island would give you unforgettable experiences and a lot of memories.
Also Read:- Best Shopping Destinations in Fiji
4. Taveuni Island Beach: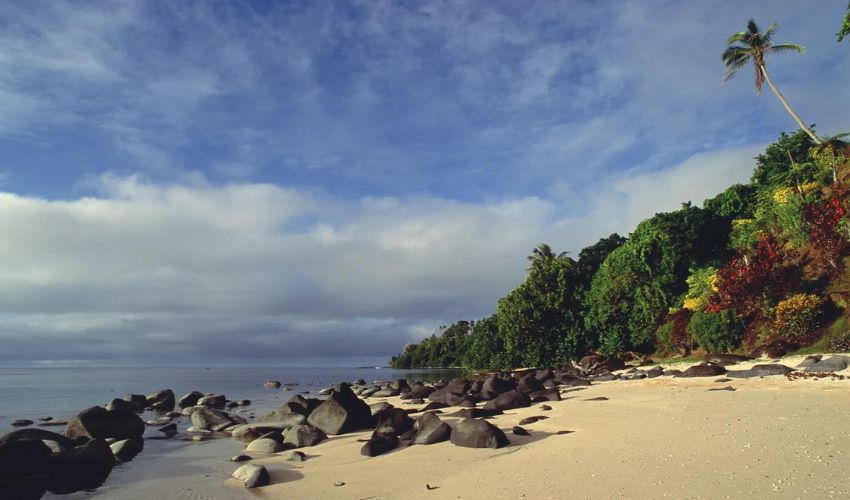 The well-known Garden Island, Taveuni Island, is located in the northern part of Fiji. Taveuni Island is a true beauty, consisting of biodiversity and natural wonders on its beaches. It has captivating waterfalls, which you can even take a refreshing dip in. This waterfall has three cascades. Tavoro Falls has lush greenery and swimming holes.
Lavena Beach is located within Bouma National Heritage Park, which offers adventure to visitors. You will be surrounded by a tropical rainforest and pretty palm trees. You will have breathtaking views of the ocean.
Waitabu Beach, the captivating beach of Taveuni, is peaceful and idyllic. It offers incredible underwater experiences to divers and snorkelers. Qamea Beach provides a peaceful and romantic atmosphere along its shorelines. It is the perfect destination for newlywed couples seeking honeymoon serenity.
Beaches on Matagi Island are known for dramatic cliffs, impressive waves, and rocky formations. It is the best destination for adventure lovers, as it offers surfing and beachbombing. On the other hand, Matei Beach has calm water and peaceful views of surrounding islands, which makes it the best spot for sunbathing.
Vuna Beach, on the western side of Taveuni, is famous for diving and snorkelling. Taveuni's beaches are a true paradise for beach enthusiasts, as it is the best beach destination for relaxation and adventure as well.
5. Beqa Island Beach:
Beqa Island is perfect if you want an off-the-beaten-track vacation experience. It is located on the eastern side of Viti Levu. You can get a first-class diving and snorkelling experience. Divers can even explore the various dive sites, like the popular shark dive. In shark diving, you will have very close encounters with sharks and other marine animals like manta rays and sea turtles. 
Beqa Island has plenty of beaches, such as Lalati Beach, on the eastern side of the island, which has calm, inviting water. Gentle waves make it the perfect spot for snorkelling; Rukua Beach, on the southern side of the island, is a peaceful retreat and a perfect spot for picnics, coastal views, and a romantic walk; Kula Bay Resort owns its own private beach and facilitates the luxurious beach experience. Beqa Island has various beaches with different characters and unique beauty.
Fiji has numerous beautiful and best beaches that are worth a visit. You can visit with friends or family. You will see the captivating natural beauty, feel all the serenity and relaxation, do adventurous activities like diving, snorkelling, and other water sport activities, and experience the culture of Fiji. It is a perfect and unforgettable tropical getaway.
Fiji's beaches are safe for swimming, but it is recommended to use precautions, avoid safety hazards, and swim in the presence of lifeguards. Consult resort staff and locals for beach safety information.
Beachwear and swimsuits are accepted on beaches, but as a conservative country, it is recommended to cover up and dress modestly when you are not on the beach and visiting villages.
Beaches in Fiji provide unique facilities according to their locations. The most common facilities available on Fiji's beaches are showers, public restrooms, restaurants, and beachside bars.
Yes, you can camp on Fiji's beaches, but make sure you respect the local communities and seek permission if the beach is on private land. Camping on Fiji's beaches would surely be memorable for you.
Beaches of Fiji are excellent destinations for sports activities. You can do scuba diving, snorkelling, kayaking, jet skiing, and paddleboarding. You can also do boat tours to explore the surrounding marine life.
Related Blog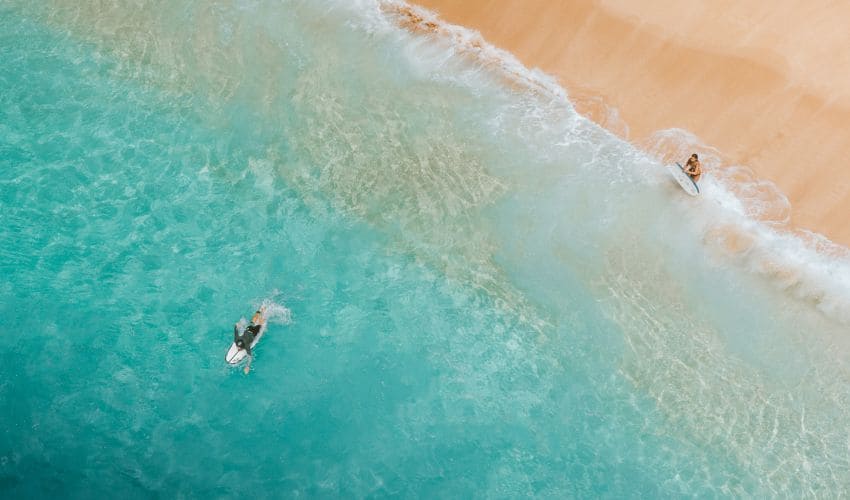 Water Sports to do in Fiji
27 Jul 2023 By golocalfiji Share Fiji's Water Sports Paradise: Surfing, Kayaking, and Jet Skiing The stunning coastline and clear oceans that surround Fiji are attractions in and of themselves. It's no surprise that water enthusiasts swarm to Fiji to partake in the wealth of water activities offered by the island nation's golden sand beaches, … Read more